We do not collect any information of the user.
There is no signup process. We will never ask for your email for using Just Content.
SMS, MMS Messages are never transferred outside the device. Our machine learning models are available only on the device and all filtering happens on the device. You do not need an internet connection for filtering, blocking to operate.
Emails we receive as feedback are not shared with any third parties.
This website does not collect or retain user information. We do not use cookies to track returning users. No analytics or user behaviour is captured on this website.
Just Content offers a sync feature for updating the blocking rules on the device.
As part of sync, your device does not share any user or device details to our servers.
This feature can be turned off in the Settings screen of Just Content.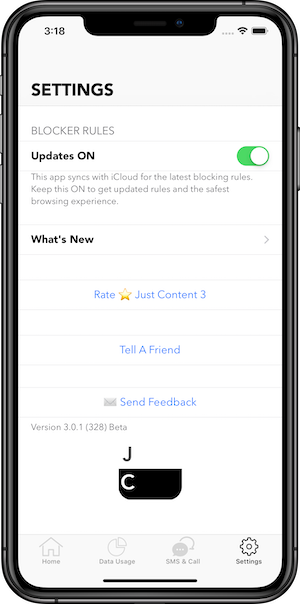 DATA PROTECTION
All communication with our sync servers requires HTTPS.
1. We do not collect or process any personal data. The processing of data shall always be in line with the General Data Protection Regulation (GDPR), and in accordance with the country-specific data protection regulations applicable. By means of this data protection declaration, we would like to inform the general public of the nature, scope, and purpose of the personal data we collect, use and process. Furthermore, data subjects are informed, by means of this data protection declaration, of the rights to which they are entitled.
As the controller, Just Content has implemented numerous technical and organizational measures to ensure the most complete protection of personal data processed through this website.
2. Name and Address of the controller
Controller for the purposes of the General Data Protection Regulation (GDPR), other data protection laws applicable in Member states of the European Union and other provisions related to data protection is:
Just Content
72 West Jones Road
Saidapet
Chennai, India
Email: support@justthecontent.com
Website: https://justthecontent.com
Updated - March 4, 2019.
Effective Date - September 16, 2015.